MASTER YOUR INSIGHT COMMUNITY
Get expert guidance, case studies and supplier profiles to help you plan, build and manage your insight community.
Get full access to all videos and presentation slides from the Communities Summit 2020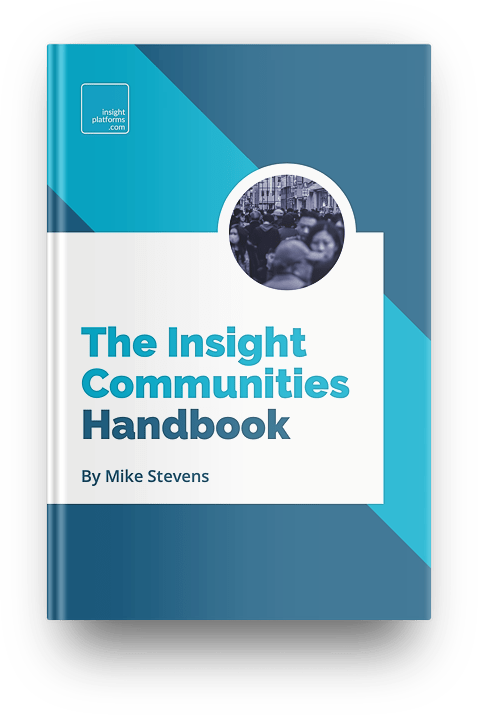 Want a sample? Download the contents and first chapter.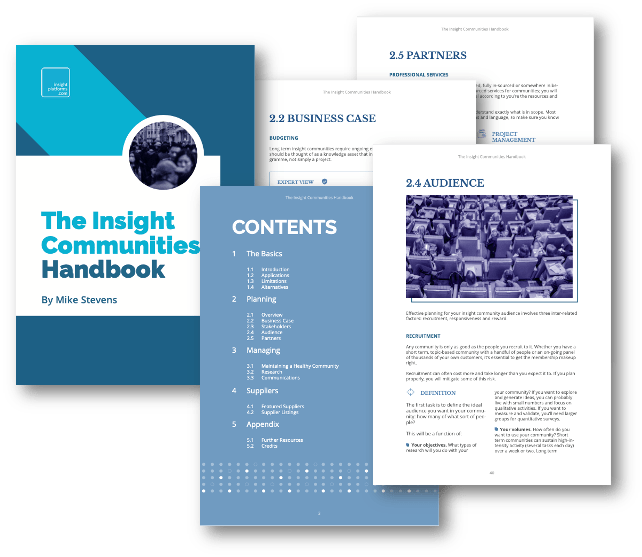 This e-book is for insight managers, agency researchers and customer success teams in technology providers.
It provides in-depth guidance for planning, building and running insight communities and includes expert tips and case studies from agencies and software companies around the world.
The author has over 10 years' experience working with insight communities. He frequently writes, delivers training and speaks at industry conferences on the topic. 
1.1 Introduction: the power of the crowd and the role for insight communities
1.2 Applications: how communities can be used for exploration, innovation, comms development and more
1.3 Limitations: managing sample bias, conditioning and budget constraints
1.4 Alternatives: do you really need a community, and what else might be better?
2.1 Overview: the core planning considerations 
2.2 Business Case: a checklist for budgeting and staffing 
2.3 Stakeholders: how to engage legal, data security, CRM and marketing colleagues
2.4 Audience: how to recruit, engage and reward community members
2.5 Partners: how to select the right services and software providers 
3.1 Maintaining a Healthy Community: how to manage content, communications and feedback 
3.2 Research: core principles and tips for designing qualitative and quantitative projects
3.3 Communications: how to engage your own stakeholders in your community
4.1 Featured Suppliers: companies with videos and presentations from the Communities Summit 2020
4.2 Supplier Listings: a collection of more than 40 software and services providers with insight community expertise  
5.1 Further Resources: links to articles, ebooks and case studies with more depth on insight communities. 
On-demand videos and presentation slides from six leading experts in insight communities.
Learn how to build successful communities, design great research programmes, connet with hard-to-reach audiences and engage stakeholders creatively.
Paul Hudson & Dr Katharine Johnson from FlexMR

Convergence, Creativity and Collaboration: What's Next for Insight Communities?


Insight communities offer a treasure trove of  data - but this means little if we don't get better at acting on it.
In this video, Paul and Katharine explain how insight communities help researchers make better use of data, and share creative techniques for engaging decision makers.
Simon Harrington from Potentiate
An Insider's Guide to Maximising Community ROI

As CMO at Exterion Media, Simon rolled out an audience community of Londoners which became a core sales and marketing asset for the business.
In this video, he shares practical lessons and case studies for building communities with measurable commercial impact.
Nick Campbell from incling

Build it Right and They Will Come: 10 Ways to Design Engaging Online Activities


The way you manage face-to-face research projects - focus groups and depth interviews - doesn't always transfer well to online insight communities.
This video has 10 practical tips and online tasks that will help you gather more in-depth feedback and insight online.
Isaac Rogers from 20|20 Research
Lean Doesn't Have to be Mean: The Agility and Efficiency of an AI-Powered Lean Community

Digital insight communities are evolving quickly.
This video explores the value and use cases of Lean Communities: flexible models that  avoid the fixed costs of traditional communities, and use the latest automation and predictive analytics to streamline your processes.
Matt Kleinschmit from Reach3 Insights
Community Evolved: Re-imagining insight communities in the age of mobile messaging

Insight communities still rely heavily on ageing research approaches: email-based communications, long surveys and overly formalised community management.
This video shows how you can run communities using SMS, social messaging apps and conversational technologies to connect better with modern consumers.
Johnny Anderson from Fuel Cycle
You're Doing Community Research Wrong: How To Easily Make It Right

It's easy to talk about benefits of insight communities. But what about the challenges and obstacles?
This video breaks common missteps and shows real success stories from difficult industries like finance, healthcare and media. Learn failsafe tactics, pitfalls to avoid and how to turn a sinking ship around.
Already have an Insight Platforms Account?
Log in here first.