Ebook
How Not to do Insight Transformation

AVOID PITFALLS
---
Fictionalised (but painfully real) case studies that show how easy it is to get insight transformation wrong
TIPS FOR SUCCESS
---
Ideas that really work, based on practical experience from insight teams
EXAMPLES TO INSPIRE
---
Stories of success from organisations who have been through their own transformation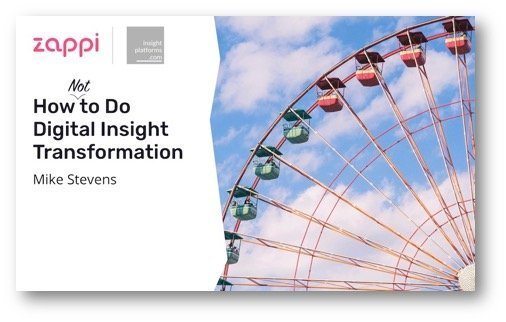 Be agile! Be lean! Transform your insight team!
Sounds familiar, right? Only nobody tells you how you're supposed to do it.
In a workshop hosted by Zappi, insight leaders from global brands including Vodafone, Mars, Nestlé, Pepsico, BT and Sky explored the how of insight transformation: practical lessons for moving research and analytics teams from here to there.
This free guide distills those lessons and includes further advice for insight leaders.