Insight Communities
The latest learning, advice and supplier profiles for insight communities, custom panels & MROCs.
An introduction to insight communities
Read this short guide to understand the basics about insight communities: what are they all about and what sort of project can you use them for?
Tips and strategies to ensure you get the most value from your insight community: how to plan it properly, set it up for success and avoid making costly mistakes.
This market map shows you the main insight community platforms. Do you want hundreds or thousands of customers in a long term panel? Or a handful of people in a qualitative research sprint?
Featured insight community platforms
More insight community platforms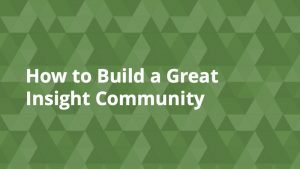 Insight communities can be costly and time-consuming to set up. You want to make sure they succeed. Here are 10 factors that help make a great insight community.