All Automated Survey Research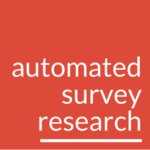 This category includes simple, rapid survey tools with integrated panel sample; and platforms with broader capabilities for fully automated agile research, including products for specific research applications like ad testing, concept testing and other niche tools. All share a number of common features: a self-service front end, integrated sampling, configurable or fully customisable surveys, and integrated analysis tools with online reports or dashboards.
1Q is an automated survey tool for fielding very short surveys (1-5 questions) to smartphone users in the US.

Appinio is a mobile-first automated survey platform with a proprietary panel of more than 800,000 users of the Appinio smartphone app in Germany, Switzerland, Australia, UK and the US. Additional markets can also be accessed through Appinio's managed services team.

Attest is an integrated platform for rapid market feedback and brand tracking. Users build short surveys, select the target audience, launch the project and analyse results all within the platform. The company claims average turnaround times of 24 hours for 1000 responses (we got 250 within an hour here). Brands including Treatwell, Deliveroo and Carwow are customers.

Conjoint.ly provides automated tools and expert support for product and pricing research including online solutions for share of preference simulation, segmentation, discrete choice experiments and prediction markets.

easy2survey is an automated, agile surveys platform with managed services support. Standardised research products include pre-tests (for TV, radio, print, digital and outdoor); concept tests; pack tests; campaign evaluation and brand health check. Surveys can be carried out in more than 40 countries, with results available in under 24 hours. Users of the platform configure their survey and target audience using either an online wizard or by speaking to a project manager. Once the survey is complete, results are available Read more [...]

Frontier7 is an automated research and analytics platform with a surveys capability (to existing customers or with direct access to global on-line panels); unsupervised machine learning for automatic customer segmentations, modelling and prediction; and text / sentiment analysis tools for analysing product reviews, customer feedback forms or open-ended survey questions.

Gauge Insights is a self-service surveys platform with optional professional services. Respondents come from a proprietary panel (users of the Gauge app) and third party panels. The tool includes a survey builder, audience profile builder and reporting tools.

Google offers two survey products: Surveys and Surveys 360. The Surveys product includes a survey builder for questionnaires of up to 10 questions; audience targeting (respondents are drawn from a publisher network); and online reporting tools. Surveys 360 includes advanced audience re-targeting and support services.

Gorkana is a real-time research tool for UK PR agencies. Instant polls and surveys can be asked for as little as £10 to a UK network of over 4 million respondents. Rresults can be available within minutes.

GutCheck is a managed service providing a range of agile research solutions: 'Explore' (online qual, mobile ethnography); 'Build' (concept testing, refinement and pricing); and 'Communicate' (ad pre testing). The GutCheck 'Constellation' tool delivers integrated analytics combining survey data with behavioural data from CRM, social and transactional sources.
Showing Automated Survey Research 1-10 of 37