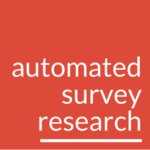 This category includes simple, rapid survey tools with integrated panel sample; and platforms with broader capabilities for fully automated agile research, including products for specific research applications like ad testing, concept testing and other niche tools. All share a number of common features: a self-service front end, integrated sampling, configurable or fully customisable surveys, and integrated analysis tools with online reports or dashboards.
Glow

is an agile research platform for quantitative surveys. Users can design studies from scratch or use a range of templates for concept testing, packaging evaluation, category deep dives, brand tracking, event feedback and other survey types. Surveys can be sent to customers in CRM databases or posted to online and social channels;

Glow

is also fully integrated with

Dynata

's global panel of over 60 million respondents. Results are available in real time in online dashboards.

Kantar Marketplace

is Kantar's self-service online research platform with three main features. Quick Polls & Surveys. Quick Polls are single questions to 1,000 respondents completed within an hour; Surveys is a self-service tool for custom surveys of up to 20 questions. Search existing data: find answers from a database of thousands of prior Quick Polls. Expert Solutions: automated products built on standard Kantar methodologies such as Link and Ad Now.

Cubery

is a tech-driven research and insights agency, offering end-to-end, expert-led solutions for testing the effectiveness of advertising, new product innovations and packaging.

Cubery

's model is unique because it allows clients to scale up or down depending on how hands-on they want to be.

Cubery

's platform can be used to run fully automated, self-serve research projects in a timely and cost-effective way. Alternatively, clients can "scale up" and gain access to

Cubery

's in-house team of specialist consultants, who will analyse their test results and provide clear directions for improvement.

Fastuna

is an automated survey research tool for validating product ideas, creative materials and ads against consumer opinion with feedback in less than 24 hours.

CitizenMe

is a self-service research platform that combines surveys with passively-captured data from its panel of over a million users. Members can choose to exchange (for each individual data point and each individual project) their behavioural and profiling data along with their answers to surveys. The user is entirely in control, and is transparently rewarded for each exchange they make.

SightX

is an automated research and analytics platform with a surveys capability (to existing customers or with direct access to global on-line panels); unsupervised machine learning for automatic customer segmentations, modelling and prediction; and text / sentiment analysis tools for analysing product reviews, customer feedback forms or open-ended survey questions.

Poll & Roll is a tool for automated survey research in France. Users create surveys from scratch or modify existing best practice templates for concept testing, ad testing or customer satisfaction; they then select their target sample using gender, age, region and socio-economic criteria; results are available for analysis in real time in online charts and tables, which can be exported to PowerPoint or Excel. An interactive demo is available online.

Methodify

is an automated market research platform for testing ads, concepts, product designs, pricing strategies and user experience. research products include both proprietary techniques and tools from partner agencies such as Kantar TNS and element54.

OnePulse

is an automated research tool for deploying micro surveys of up to three questions. Answer options can be text, single/ multi choice, image or video. Respondents are

OnePulse

smartphone app users in the UK and US, and can be targeted with over 60 behavioural and attitudinal data points. Results appear 'in seconds', answers can be filtered by data point and individual respondents can even be re-accessed with further questions. The tool also has built-in sentiment analysis for open-ended questions.

Perksy

is a self-service consumer insights platform that focuses on research with Millennials and Gen-Z consumers. Panel members sign up through the

Perksy

smartphone app and take surveys to earn rewards. The survey builder includes 10 question types with a customisable design options and conditional logic; audiences can be targeted using 35 demographic variables, location, mobile behaviours and social profile data; results can be analysed in real time using data visualisation tools or exported for further analysis.