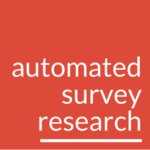 This category includes simple, rapid survey tools with integrated panel sample; and platforms with broader capabilities for fully automated agile research, including products for specific research applications like ad testing, concept testing and other niche tools. All share a number of common features: a self-service front end, integrated sampling, configurable or fully customisable surveys, and integrated analysis tools with online reports or dashboards.
Zappi helps global brands make faster and better decisions to drive business growth, shape new product development, and enhance their advertising and branding efforts. We help them predict success and disrupt their industries. The time available to businesses for decision-making has decreased, while consumers' choice of products and their expo....

Attest is on a mission to ensure that all companies can put real consumers and data at the heart of every decision. Through our leading scalable intelligence platform, hundreds of brands and agencies connect every day to audiences of 100 million consumers across 80 different countries, helping them get closer to consumers, innovate, win more bus....