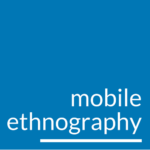 Mobile ethnography platforms are used to capture in-context insights from users and consumers through their smartphone. Feedback options include text inputs, polls / surveys, image capture, video response and even screen capture for understanding user experience of an app or website.
Thoughtlight is a smartphone ethnography app from Civicom Key features include the ability for users to feed back using video, photo, audio, and text; share their location data; and take part in offline activities in locations where there is low signal strength or no data connectivity. Managed services support is available to help with user recruitment, project management and data delivery.

Tandem

is a smartphone-based qual research and mobile ethnography tool. Key features include a social media like newsfeed interface for respondents; the ability to create modular activities with a mix of qual and quant tasks; and rich media question formats for image and video responses. Analysis tools include the tags, annotations and emojis; and the option to create graphs for visualising responses across groups of participants.

Over the Shoulder

is a smartphone ethnography and qualitative research app for mobile journaling/diary studies, capturing in-context behaviours, documenting how consumers shop different categories and tracking activities over time. Features include surveys, photo and video uploads, geo-location triggers and tagging, mobile screen capture and custom branding. Reporting is via an online portal and includes automated video transcriptions, tagging capabilities and search / sort functionality. Managed services are available for recruitment, design and project management.

Batterii

is a smartphone platform for qualitative research. Hundreds of pre-recruited specialist communities are available for on-demand projects; new communities can also be recruited for specific requirements. Consumers provide feedback using text, images and video; results are available instantly in an online dashboard. A professional services team is also on hand to help with research design, participant recruitment and analysis / reporting of results.

We are digital research experts who specialise in building engaging online communities of all shapes and sizes to generate powerful consumer insight. Our proprietary platform has been built by researchers and

incling

's own in-house developers. We can set up new platforms in under 24 hours, securely hosted in over 20 languages, and all fully optimised for mobile with a customisable design. You can choose a self-service option, or we offer support every step of the way from set-up and recruitment, to translation, moderation and participant management. You'll have unlimited access to a full range of tools, carefully designed to be intuitive and engaging, and we're constantly innovating to take advantage of new technology. Here's a brief overview of our most popular activities: Discussion: Detailed group or one-on-one text-based feedback in a blog, forum or debate style Screencast: Remote usability testing of websites and prototypes for experience optimisation, journey mapping and shopper tracking Diary: Record consumer experiences over a period of time in an ethnographic way including tracking attitudes & behaviours and observing usage & consumption Concept evaluation: Targeted feedback generating a sentiment

heat map

on any type of stimulus from adverts at any stage, to comms and product packaging Image & Video tasks: Bring consumers' worlds to life with rich media uploads that create picture galleries and video clip reels to visually support your insights Poll: Quantify or add robustness to data with simple surveys, customer satisfaction feedback, ranking and ratings or attitudinal scales Once you've gathered your insight, our built-in analysis tools give you the ability to star and highlight comments, add tags and share notes. These are collated in an analysis dashboard where you can filter and sort your data before easily exporting.

incling

is ISO 27001 certified and GDPR compliant.

Digsite

's leading agile qualitative research platform makes it fast and easy for marketing, innovation and CX teams to learn and iterate with consumers.

Digsite

offers Instant Recruiting to find highly-targeted, engaged participants in as little as one day.

Digsite

's Sprint Communities deliver in-context learning and iteration over days, weeks or more. Choose a mix of moderated conversations, unmoderated activities, and live video interviews. Capture real-world experiences, ask "why" questions, and iterate with consumers on any device. Tap

Digsite

SmartReporting to instantly create automated, presentation-ready reports. Now you can say "yes" to in-context research under tight budgets and timelines.

Recollective

is an online platform for insight communities and qualitative research. Developed in partnership with customers to meet complex and changing research needs, it is intuitive enough for any agency or client-side user suitable for projects and communities of any duration or size available for self-service (software-only) project-managed in partnership with an expert services team. Studies can be short pop-up communities of just 3 days or a week, through to longer term and ongoing insight communities spanning months or years. Applications include Concept Testing, Behavioural Studies, Customer Feedback, Advisory & Consultation, Co-Creation and Ideation, Employee Satisfaction and Ethnographic projects. The

Recollective

platform helps to achieve: Better Data Quality: in-depth responses, peer interaction and "in the moment" research tools Stronger Engagement: intuitive interface, access from any device and a familiar social networking experience Faster Results: same-day setup and deployment of studies, real-time monitoring, instant community  feedback and instant transcription Greater Cost Effectiveness: eliminate or reduce recruiting costs, reuse past activities, reduce time spent moderating and analysing.

Journey HQ is a smartphone app for capturing consumer journeys using text, photo and video entries.