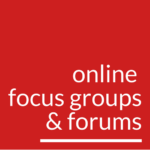 These online qualitative tools share some features with insight community platforms: live chat groups for real-time discussions; asynchronous discussion boards for longer term conversations with more participants; and features to help with projection or co-creation such as whiteboards, picture-books, video responses and scrapbooks.
Recollective

is an online platform for insight communities and qualitative research. Developed in partnership with customers to meet complex and changing research needs, it is intuitive enough for any agency or client-side user suitable for projects and communities of any duration or size available for self-service (software-only) project-managed in partnership with an expert services team. Studies can be short pop-up communities of just 3 days or a week, through to longer term and ongoing insight communities spanning months or years. Applications include Concept Testing, Behavioural Studies, Customer Feedback, Advisory & Consultation, Co-Creation and Ideation, Employee Satisfaction and Ethnographic projects. The

Recollective

platform helps to achieve: Better Data Quality: in-depth responses, peer interaction and "in the moment" research tools Stronger Engagement: intuitive interface, access from any device and a familiar social networking experience Faster Results: same-day setup and deployment of studies, real-time monitoring, instant community  feedback and instant transcription Greater Cost Effectiveness: eliminate or reduce recruiting costs, reuse past activities, reduce time spent moderating and analysing.

We are digital research experts who specialise in building engaging online communities of all shapes and sizes to generate powerful

consumer insight

. Our proprietary platform has been built by researchers and

incling

's own in-house developers. We can set up new platforms in under 24 hours, securely hosted in over 20 languages, and all fully optimised for mobile with a customisable design. You can choose a self-service option, or we offer support every step of the way from set-up and recruitment, to translation, moderation and participant management. You'll have unlimited access to a full range of tools, carefully designed to be intuitive and engaging, and we're constantly innovating to take advantage of new technology. Here's a brief overview of our most popular activities: Discussion: Detailed group or one-on-one text-based feedback in a blog, forum or debate style Screencast: Remote usability testing of websites and prototypes for experience optimisation, journey mapping and shopper tracking Diary: Record consumer experiences over a period of time in an ethnographic way including tracking attitudes & behaviours and observing usage & consumption Concept evaluation: Targeted feedback generating a sentiment

heat map

on any type of stimulus from adverts at any stage, to comms and product packaging Image & Video tasks: Bring consumers' worlds to life with rich media uploads that create picture galleries and video clip reels to visually support your insights Poll: Quantify or add robustness to data with simple surveys, customer satisfaction feedback, ranking and ratings or attitudinal scales Once you've gathered your insight, our built-in analysis tools give you the ability to star and highlight comments, add tags and share notes. These are collated in an analysis dashboard where you can filter and sort your data before easily exporting.

incling

is ISO 27001 certified and GDPR compliant.

iResearch

is an online qualitative research software platform for showing participants product concepts, ads and audio-visual stimulus.

MRQual

a tool for moderating asynchronous focus groups and managing communities or qualitative panels. It supports research in 20+ languages and can be custom branded. Key features include video and image uploads for both moderators and participants; various question types (open ended, closed single and closed multi response; breakout rooms for posting different questions to different groups of participants; exportable transcripts; and any number of client observers. Supported languages include Danish, Dutch, English, French, German, Hungarian, Italian, Norwegian, Polish, Portuguese, Spanish, Swedish, Arabic, Chinese (simplified), Hindi, Japanese, Korean, Russian, Somali, Thai and Turkish. Professional services are also available to help with recruitment, discussion guide design and moderation.

HatchTank

is a research platform with 15 different qualitative and quantitative tools including open ended discussions, simple survey questions and interactive tasks such as collages, card and photo sorts. The tool is both browser based (desktop and mobile) with native iPhone and Android apps also available. Over 20 languages are supported with immediate Google translation. Professional services are also available for project management, discussion guide review, programming and participation tracking.

Focusson

is an online tool for conducting web-based interviews and group discussions with in-built text analytics.

Aha! provides a qualitative research platform and optional research & consulting services to help with study design, project management, recruiting and analysis. Training and tech support is also provided for the research platform, which features pre-built and customized activities for projective techniques (such as a collage tool, storytelling and fill-in-the-blank tasks); 'Dynamic Canvas' visual research exercises with image upload, stimulus manipulation, and markup tools; video capture and upload with automated transcripts; and social tools including pinboard, wishing wall and newsfeed.

itracks

is a qualitative research platform with a range of features including live chat, discussion boards, community, video chat and markup tools. Project support services are also available for research design, moderation and analysis.

QualBoard is the industry's leading digital engagement platform. Redesigned from the ground-up in 2019, the solution was developed to provide ultimate flexibility for your research, with the ability to design and connect projects so you can build upon learnings. From ad hoc qualitative engagements to ongoing lean communities, QualBoard is ideal for multiple research needs. The QualBoard platform helps you achieve: Flexibility: QualBoard is ideal for a variety of projects and populations, including large or small groups, on-going studies or one-off needs, and geographically dispersed or hard-to-reach audiences. Higher Engagement: Our robust platform aligns with how consumers naturally respond, helping researchers probe deeper and uncover more meaningful insights – so you get information that delivers more return on investment. Cost Efficiencies: Tailored to fit your needs, our pricing model is customized based on your research design.

FocusGroupIt is a simple, text-chat based online focus group tool.