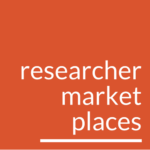 Marketplaces connect research clients with freelancers, consultants, agencies or specialists. Some operate a 'pay-to-pitch' model; others take a fee based on the overall project value.
Savio

is a marketplace connecting research buyers with research experts. It can be used for individual tasks or whole projects, and aims to plug some of the gaps in self-service online research tools.

Zursh

is an online marketplace for both primary, secondary and syndicated research. Users can post briefs for new projects with a maximum budget, and researchers then bid against these. Private marketplaces are also available for more confidential topics.

Collaborata

is a marketplace for research with a unique model: multiple clients with similar requirements pool their needs in order to share the costs of research projects. These are in turn pitched for and run by research providers in the marketplace.

Insight Exchange

is a marketplace for connecting research buyers with research specialists. Buyers post their project requirements and the most relevant matches are identified by the

Insight Exchange

team. Rates and project fees are negotiated directly between the specialist and the buyer; project fees are deposited in escrow and stage payments are made against specific milestones; platform fees are 10%. The marketplace is currently in beta launch in Australia and New Zealand.

Wonder

is an online marketplace for desk research, with over 6,000 analysts available to help answer questions at short notice.