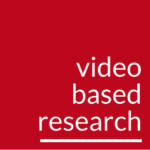 These platforms are used to capture first person video from research participants. Several tools also have advanced features for managing large volumes of video feedback in a single database; transcribing comments (automatically or manually) to make content searchable; analysing video content through object recognition or facial expressions; reporting / visualising data; and creating clips or showreels.
Instapanel

is a video research platform that combines quantitative surveys with qualitative video responses for ethnographic insights, concept testing and creative development.

methinks

is an online video research platform with a panel of over 350,000 consumers. The software allows researchers to schedule interviews instantly; record discussions; automatically transcribe video; take notes; and bookmark insights. It can be used for live interviews; surveys with embedded video capture; and longitudinal diary studies.

fnograph

is a 'video+data consumer intelligence platform'. Consumers record video and answer questions about specific topics. Subscribers can access pre-existing libraries of video insights about categories (eg QSR or fashion) or individual brands; or they can run targeted studies to collect video on a specific topic with consumers in more than 100 countries.

YouPlus

is a video analytics platform that uses machine learning to identify and measure human emotion in video. Video content is automatically transcribed; NLP is applied to understand sentiment and extract opinions; computer vision is used to identify objects and understand context and environment; outputs include 'mental models' of the ways consumers express themselves.

High Tech Development

offers video solutions for market research and UX testing. Video can be live streamed from viewing facilities, in-home interviews or captured live online from desktop and mobile devices. Venue-based software and hardware solutions include 4K HD recording / streaming; multiple angles with up to 16 live cameras; online observer access; and live blurring for privacy enabled research. Smartphone app-based live streaming enables respondents and qualitative qualitative researchers to capture video in-the-moment during in-home interviews, accompanied shops or ethnographic studies. Online UX recording and streaming can support up to 3000 respondents per project on any platform (Mac, Windows Linux, iOS and Android).

Samelogic

is a simple video and voicenote feedback and analytics platform. Users record a question, create a feedback link and share it; respondents then answer using video or a voicenote. Embeddable widgets allow the feedback to captured on any web property without the need for a smartphone app. Outputs can include automatic transcription and facial emotion analysis.

Vox Pops International provides managed services and software tools for video creation, management and automated reporting. VPI is a video research agency that fuses market research and video production in-house. They create videos that feature real people and bring insight to life across a range of market research functions. VPI also produce insight portals to make video research more accessible and facilitate modern video techniques such as personalised video and automated video reporting. Vox Pops International's video research is used i) as primary research to gather first-hand feedback, ii) to present insight and increase insight-engagement, iii) to bring consumers to life and improve customer closeness, iv) to visualise specific journeys or experiences and highlight pain points. They conduct intercept street-interviews, pre-recruited depth interviews and also provide user-generated video, video infographics and automated animations. Vox Pops International is a full-service agency, managing projects from start to end, including recruitment, moderating, filming, editing, post-production and animation. They operate internationally and have worked in over 50 markets around the world.

Qualie

combines qualitative insight with quantitative data in a single survey and platform. Participants distill their responses in short videos which are rated and reviewed by quantitative participants in the same survey to find the consensus opinion of the market to any initiative or topic. Outputs include video insights from the market's chosen spokespeople explaining the 'why' behind the quantitative measures.

Qualie

is available as self-service platform; the team can also provide fully managed services.

QualSights

is a platform for remote video observation, interviews and focus groups. It can also be used to enhance face-to-face projects and to enable customers or field staff to broadcast live. The software can capture video from any camera, and uses machine learning to transcribe audio; generate keywords and topics; apply sentiment and emotion analysis; and recognise objects and scenes in videos. The software also features a drag-and-drop video editor to create clips and showreels.

Big Sofa

is a video management and analytics platform with both self-service consultancy-supported options. The platform takes in consumer video in any format (mobile uploads, wearables, webcams, fixed cameras or social media) and transcribes the content to make it searchable.