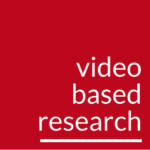 These platforms are used to capture first person video from research participants. Several tools also have advanced features for managing large volumes of video feedback in a single database; transcribing comments (automatically or manually) to make content searchable; analysing video content through object recognition or facial expressions; reporting / visualising data; and creating clips or showreels.
Watch Me Think

is a managed service and video insights platform for research projects and user generated content.

weseethrough

uses wearable and innovative video technologies to capture a first-person view of peopleÕs lives for market research and insight. Large amounts of first-person footage are captured in a bespoke video analytics platform, where footage is tagged and subtitled to make specific behaviours or consumersÕ opinions searchable. Project support services include options for in-depth research reporting and showreel creation.

Mindswarms

is a managed service and video researh platform. Project managers work with clients to help design studies, recruit participants and proof video responses to ensure quality. Videos are transcribed and searchable. Optional services for analysis, reporting and highlight reel editing are also available.

Vidlet

is a video research platform with support services for recruitment and project management. Participants complete video recordings with answers to specific questions; these are uploaded to video management and Òvideo post-it notesÓ are created to aid reviewing, editing, tagging, analysing, and organising of clips. The software automatically transcribes and translates video, creates word clouds and enables full text search on video content.

QualNow

is a platform for instant qualitative consumer insight, promising feedback from its consumer panel in minutes.

discuss.io

is a video research platform for one-on-one and group conversations with integrated participant recruitment and reporting tools to share findings

LivingLens captures & analyses video content for research and marketing teams. The platform supports any type of video content; applies analytics to transcripts of the spoken word as well as objects in images & sentiment in any language; users can build stories using a showreel creator; and results can be published online or and presented.

Plotto

is a tool for creating, collecting, analysing and editing video survey responses. It combines video capture, online survey software, cognitive analysis and showreel generation in a self-service online platform.

Voxpopme

's platform delivers video research with software to capture, analyse and share content. Video capture can be embedded into any survey and video responses can be submitted on any device. Videos are human-transcribed and can be searched by keyword or filtered by additional data collected alongside the video. Videos are rated for sentiment, with reporting in interactive charts and word clouds. Showreels can be created from clips and embedded in presentations or hosted on a password protected landing page.

Big Sofa

is a video management and analytics platform with both self-service consultancy-supported options. The platform takes in consumer video in any format (mobile uploads, wearables, webcams, fixed cameras or social media) and transcribes the content to make it searchable.