All Dashboards Visualisation and Infographics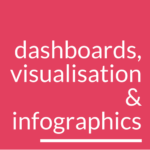 This category includes automated research reporting platforms for creating online, PPT or PDF charts automatically from data (usually tables or CSV); dashboards for analysing and visualising large datasets, some of which also have broader Business Intelligence capabilities; and infographic design / publishing tools.
Piktochart is an onine tool for creating infographics, presentations and reports.

PPTX Builder is a cloud based platform for building PowerPoint presentations directly from data tables.

ReportGorilla creates instant reports and presentations from survey data.

Visme is an online design tool for creating infographics, presentations, charts and reports.
Showing Dashboards Visualisation and Infographics 11-17 of 17