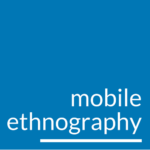 Mobile ethnography platforms are used to capture in-context insights from users and consumers through their smartphone. Feedback options include text inputs, polls / surveys, image capture, video response and even screen capture for understanding user experience of an app or website.
Contextmapp is a mobile research and ethnography solution for customer journey mapping, mobile diaries and co-creation projects.

Crowdlab is a smartphone app-based research tool. Features include surveys with full routing and piping; repeatable diaries and forums; photo, video and audio uploads; community tasks such as group discussions, one-to-ones and ÔblindÕ tasks; real time dashboards for live project management tracking; and reports with filters, tags and export options. Managed service support is available for coding and tabulation, translation and transcription and live moderator support on foreign language discussions.

dscout is a smartphone diary research tool. Users take part in "missions" in which they capture their everyday experiences, and can be found from dscout's pool of over 100K 'scouts' in North America and the UK, or recruited separately. Results can be reviewed, tagged and analysed in a shared online portal.

Ethos is a smartphone ethnography solution for capturing experiences in-the-moment. Features and tools include analysis workspaces for automated theming and clustering, unlimited and uncompressed media entries, and support for over 20 languages. DIY or full service suport is available to help both moderators and participants with on-boarding, technical support or analysis.

We are digital research experts who specialise in building engaging online communities of all shapes and sizes to generate powerful consumer insight. Our proprietary platform has been built by researchers and incling's own in-house developers. We can set up new platforms in under 24 hours, securely hosted in over 20 languages, and all fully optimised for mobile with a customisable design. You can choose a self-service option, or we offer support every step of the way from set-up and recruitment, Read more [...]

Indeemo (shorthand for Ôin de momentÕ) is a smartphone app for mobile qualitative and ethnographic research. It is a hybrid managed service and DIY solution, and is used for getting quick, contextual insights and feedback through four types of input: photo, video, open text and mobile screen recording.

Journey HQ is a smarpthone app for capturing consumer journeys using text, photo and video entries.
Showing Mobile Ethnography 1-10 of 13