All Online Focus Groups and Forums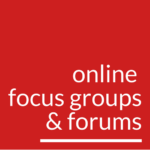 These online qualitative tools share some features with insight community platforms: live chat groups for real-time discussions; asynchronous discussion boards for longer term conversations with more participants; and features to help with projection or co-creation such as whiteboards, picture-books, video responses and scrapbooks.
Aha! provides a qualitative research platform and optional research & consulting services to help with study design, project management, recruiting and analysis. Training and tech support is also provided for the research platform, which features pre-built and customized activities for projective techniques (such as a collage tool, storytelling and fill-in-the-blank tasks); 'Dynamic Canvas' visual research exercises with image upload, stimulus manipulation, and markup tools; video capture and upload with automated transcripts; and social tools including pinboard, wishing wall and newsfeed.
Showing Online Focus Groups and Forums 1-10 of 15