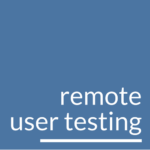 Remote usability testing tools capture a video recording of a user's screen as they navigate through a website or mobile app. Most tools also include the option to capture audio narration as users undertake specific tasks or answer questions; or video of the tester using a webcam or front-facing smartphone camera.
Helio is a design research platform with an integrated panel of over 100,000 test participants.

Lookback is a video -based tool for Interviewing and recording the face, screen and voice of users anywhere in the world with remote moderated, unmoderated and in-person options.

Loop11 is a website user testing solution. Participants are set tasks to complete and questions to answer. Session replays are available for each user; video and audio recordings of the participant can also be captured. The tool supports both small scale qualitative site reviews and large quantitative tests with up to 1,000 users.

Optimal Workshop is a user research platform with a suite of usability tools to improve website navigation, define information architecture, understand first-clicks and capture qualitative research. Research activities include tree testing, first-click testing, card sorting, surveys, and qualitative research. In-built participant recruitment brings access to 10 million participants and over 70 languages. Analysis and collaboration features are also built into the tools.
Showing Remote User Testing 1-10 of 25